The gambling industry is on a steep rise in different parts of the world, including Pakistan. Many activities have moved online, from shopping and watching movies to gambling. Ease of access and technology improvements made different online activities more popular than ever. Let's take a dip into various reasons why online casinos book increased traffic and the laws behind the gambling activities in Pakistan.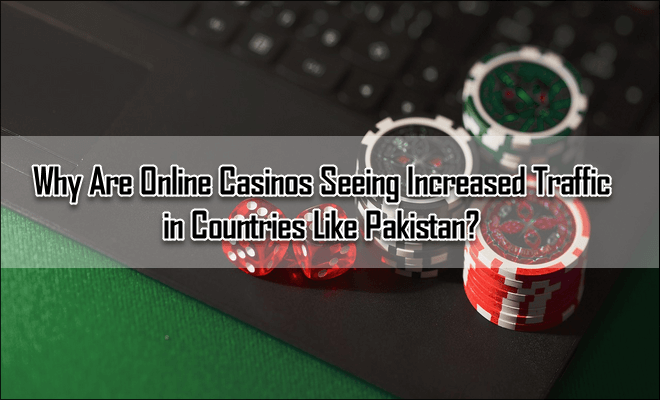 Reasons Behind the Online Casino Popularity
Although Pakistan is a Muslim country and the Islamic laws prohibit gambling, those activities have always been popular. A high percentage of people get involved in some of the gambling activities, whether they are casino games, sports betting, or horse racing wagering. Before the casino industry went online, players could experience these games only in illegal venues.
The legislation rules haven't changed since then, but they don't tackle online gambling in a precise manner. Therefore, it is a good reason for players from Pakistan to start visiting online casinos. Playing casino games online is still in a grey area, and numerous offshore operators that legally run service in their jurisdictions accept Pakistani customers. Many online casinos are tailored for Pakistani citizens, who can experience the thrill of playing the most popular slots, poker variants, spin the wheel or roulette games.
Another factor of increased traffic to online casinos is the accessibility of their websites. Technology has improved with lightning speed, and you couldn't imagine spinning the reels on your mobile phone just ten years ago. However, today you only need a smartphone and a stable internet connection.
Pakistan is a youthful country, and its population constantly increases. Some research indicates that Pakistan may become the most populated Islamic country by 2030. Nowadays, more than 100 million residents are younger than 30 years. From the perspective of online casinos, it is a huge market, especially since younger generations are much more exposed to the latest technology. That is why the interest in the casinos in this country won't drop in the next years to come.
The Gambling Regulations in Pakistan
The interest in online casinos gets even higher since there are no brick-and-mortar venues in Pakistan. According to the 1977 Gambling Prevention Act, all types of gambling are illegal. Therefore, players from Pakistan cannot find any legal venue to enjoy their favorite casino games. Of course, many unlawful operators are on the market, but we wouldn't advise you to visit them. However, the Gambling Prevention Act doesn't regulate gambling activities conducted on the internet. It is not a surprise since online casinos came into the stage way after the Act was put in place. International online casino operators recognized the Pakistani market's potential and opened their door to players coming from this country.[adsense]
The Future of Online Gambling in Pakistan
Although many countries still haven't fully regulated the online gambling market, they aim to tackle this burning topic in the near future. However, Pakistan is still reluctant to legalize this area, and there are no concrete steps as of now. Although it is a controversial topic, the online gambling market regulation could bring several benefits to the country. It would hurt the illegal market and decrease its profit. Since corruption is also connected to illegal gambling activities, the government could also tackle that problem. On the other hand, the government's budget could also get some boost due to tax income from gambling activities.
Pakistani authorities should explore every option to capitalize on the increased traffic to online casinos. Since the online gambling industry will keep growing, the government should find new mechanisms to regulate the market and protect players from hazardous environments. At this point, we can only hope that the authorities will recognize the potential benefits of handling the entire industry.