When the word 'luxury' is mentioned, what usually comes to mind are expensive and extravagant items only the rich can afford. Glittering gold, shiny diamonds, and exquisite jewels worth hundreds of thousands, if not millions, have been the image of luxury since the dawn of man.
However, luxury does not exactly entail exclusivity and expensiveness. Though flamboyance and expensive price tags usually entail luxury items, Longines provides its clients with the feel and aura of a luxury watch for a lower price than other watch brands such as Rolex and Chopard. As such, here are some affordable luxury watches from Longines.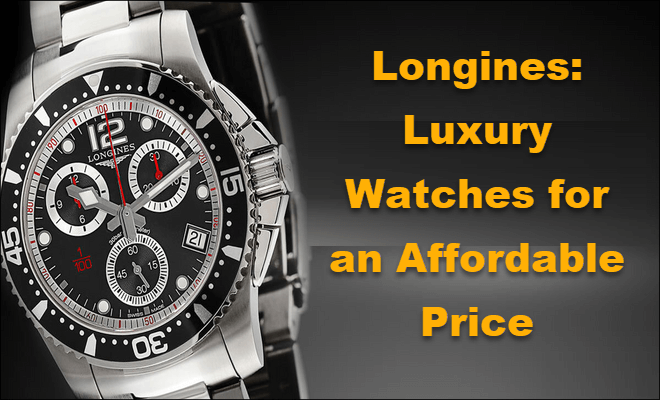 Longines' History
Though a company's products are essential, its history is just as important. Established by August Agassiz and his two partners Florian Morel and Henri Raiguel in 1832, Longines has been supplying the world with high-quality and reliable watches ever since. Thirty-five years after the company's founding, they developed the Calibre 20A movement.
Produced in 1867, the Calibre 20A movement won an award in the Universal Exhibition held in Paris during the same year. This set Longines on a trajectory of success, innovating and developing new technologies and techniques to ensure that their watches are of excellent quality and value. That being said, here are watches from Longines you ought to check out.
Longines Conquest Classic Quartz Blue Dial Ladies Watch
The Longines Conquest Classic is an exquisite watch guaranteed to be a perfect fit on any lady's wrist. With a diameter of 34 mm, the watch is a perfect size– not too big and not too small. Its color palette is vibrant, with a dial in the color blue and a case and band made of stainless steel with rose gold in the middle.
This timepiece's rose gold-tone hands complement the blue dial excellently and provide incredible contrast, making it easier to tell the time. Precision is also expected from this watch, seeing as it has a Longines Calibre 156 movement. Not to mention, this watch is also water-resistant for up to 50 meters.
Longines Master Collection Automatic Black Dial Men's Watch
Perfect for both casual and business outfits, the Longines Master Collection Black Dial has an iconic and timeless design. Its stainless steel case and band provide the watch with elegant simplicity. Its Roman numeral indexes also add to this, giving the watch a more premium and luxurious feel that stays low-key.
This watch's stainless steel case and band are complemented excellently by its black dial and silver-tone hands. The contrast provided by the silver-tone hands and the well-defined Roman numerals makes it easier and less confusing to tell the time. This watch also possesses water resistance for up to 30 meters and indicates the day's date.
Longines DolceVita Quartz Silver Dial Ladies Watch
Contrary to the typical watches with round dials, the Longines DolceVita has a rectangular dial that gives it a dainty and elegant look. With a diameter of 23.30 mm and a lug width of 17 mm, this watch is guaranteed to be a perfect fit for any lady's wrist, not to mention for any outfit and attire.
Its case and band are made of stainless steel with 18-karat pink gold. Additionally, this watch also has a silver dial, Roman numeral indexes, and blued steel hands, giving it a unique and fascinating color palette. The Longines DolceVita, like the Longines Master, is water-resistant for up to 30 meters.
Longines Spirit Automatic Blue Dial Stainless Steel Men's Watch
Like the watches above, the Longines Spirit Blue Dial is an excellent watch for every occasion. With a band and case made of stainless steel, this watch has a straightforward design. Not only that, but this watch also has a diameter of 42 mm. The design, paired with its diameter, guarantees that this watch is a fit for any man's wrist.
This watch will surely make any outfit look put-together by giving off a cool and calm aura due to its blue dial and silver-tone hands. With water resistance for up to 100 meters, this watch has the highest water resistance among all the watches that have been mentioned in this list.[adsense]
Takeaway
Though luxury watches are usually associated with expensive price tags, outrageous and nearly unconventional designs, and intricately decorated pieces, most luxury watches have simple and low-key designs, even if they may go for high prices. However, unlike other brands, Longines provides its clients with luxury watches for lower prices.
Retaining the feel and quality a luxury watch must have, Longine's timepieces are luxury timepieces that go for prices cheaper than other timepieces in the luxury watch market. With this company's decorated history and pursuit of perfection, Longine watches are guaranteed to satiate one's hunger for a great luxury watch that goes for a lesser price.