Even if it is not advertised much, Google offers a simple service to buy and register a domain, that is a website address: it is called Google Domains and although it has existed for several years, it has not long become available in Italy too simple domain purchase, which is always a tasty activity as well as essential for any web project. If you do not yet have a domain and intend to buy it, in this guide you will show you all the steps to follow in order to choose and activate a free domain, paying for its use.
Obviously the domain you are going to use must be free and not used by other sites in the world, so it is better to give free rein to our imagination and try to immediately give the site a precise and clear identity.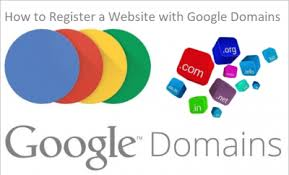 How to buy domain on Google Domains:
Buying a domain means registering a new website and therefore having the availability to publish what you want on the internet. For example, then, I can buy the personal domain namename.com, or the domain of your business or whatever you want. The domain can then be used immediately with a blog or with a website that can be hosted on any platform. The domain can also be combined with an email address whose addresses can be customized, such as contact@itechsoul.com.
To search for some free domains still available to buy, you can then open Google Domains and log in with a Google account.
Google domains have a certain simplicity of management and can be combined with automatic website creation services such as Wix, Weebly, Shopify and, above all, Blogger, the Google blogging platform that ties perfectly with the Google Domains service.
How to search for a free domain:
New domain:
By clicking on the Search link you can start searching for the domain name and try to see which ones are free. The domains. (.com, .net .edu, gov, .net, .org, .info) and many other more or less common are supported. The cost is different for the various domain extensions, starting from a minimum of 12 Euros per year for common extensions such as .com or .net.
Domain price:
Once you have found the name you want to register (perhaps letting ourselves be guided by the suggestions that Google itself offers and the indications on analyzing the chosen name) it is possible confirm it, add it to the cart and pay by giving your billing information and credit card number.
The option for privacy is already active, so that the name of who registers the domain does not appear in the public Whois list, so that it is not possible to trace the owner of the domain for anyone, in addition you can match an email address linked to the domain (also Gmail) and activate the automatic renewal. The custom email address is based on Gmail and also allows you to access all the G Suite tools.
Management of the new domain:
You can also activate the automatic redirect to another domain and you can also create subdomains, if you want to use the same domain for different sections of our site (such as www.itechsoul.com).
The interface is simplified as much as possible, so you can immediately take advantage of the new domain on an already active website (if use Blogger it is even easier to associate it).[adsense]
The registered domain is now listed in the personal domain list and can be configured in different ways.
Personal domains:
If you have already a domain and want to transfer it into Google Domains, all you have to do is open the page dedicated to the transfer of the domain on Google Domains.
How to transfer domain to Google:
Domain transfer:
On this page, all you have to do is enter the domain name already in our possession, follow all the instructions to start the transfer from the registrar currently in use, wait for the security check, confirm the transfer via email and wait just a few hours to make updates DNS. To learn more, I recommend that you read the official Google Domains help page.
How to pay for the Google domain:
After activating or transferring the domain to Google Domains, payments will be handled completely automatically, just enter the payment method the first time and wait for the annual invoice.
Billing:
By opening the Google Domains Billing page you can take a look at all the invoices already paid and the invoices to be paid for the domain or domains manage. If you want to change the payment method, just click on the payment center or immediately the Google Pay page , so that you can modify or update the method used to pay for possession of the domain or domains.
Conclusions:
Google Domains is a very simple service to use and configure (even for those who do not use these tools every day) to have all our domains under control, benefit from Google H24 assistance and to obtain the most advanced protection tools to avoid any kind of problem. Buying a domain can be a good idea even if you don't build a website, perhaps to reserve a name for future use.