The answer to the doubts and suspicions that have arisen in modern minds is also in "Irfan-ul-Quran" and the cure for the monster of sectarianism is also in the study of "Irfan-ul-Quran". Our society is engulfed in terrorism, Islam's message of peace and humanity is an important requirement of the time and Dr Muhammad Tahir-ul-Qadri is considered as the ambassador of peace all over the world. Irfan-ul-Quran will be recited till the Day of Judgment.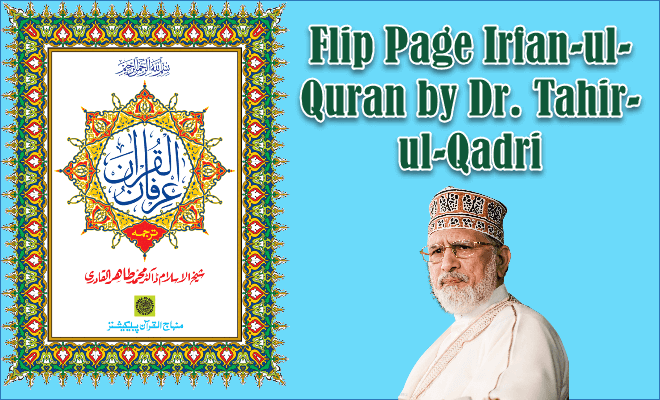 HOW TO USE:
1- Created in one file (Portable), so do not need to install.
2- Select Enable Full screen button for Full screen mode.
3- No need to install Flash player or any other application.
4- Scroll arrow keys or mouse pointer to change next and back the pages.
5- Zoom ( up to 2000 Pix) option give you more reality to read this book.
6- Compatible all Microsoft windows xp, vista, windows 7, 8 & windows 10.
7- With "Sound On" option you can on or off sound.
8- Click Table of contents icon to select your desired "Surah" for reading.
9- It is a complete book which has 1048 Pages and download file size is 160 10- MB.The information provided in this book is for educational purposes only.[adsense]
I always avoid to post Copyright materials and applications, etc. Please inform me if the copy infringes your copyright at Email: farooqtechnology@gmail.com.