It should be said that conversion tools are important implements anyone needs to have in their lives. If you're an office worker, all the more so. These tools will make your workflow smoother so that you don't have to be stuck on conversion all day just to send another PDF file. In this article, we've listed down some of the best ones you can download, bookmark, and pay for: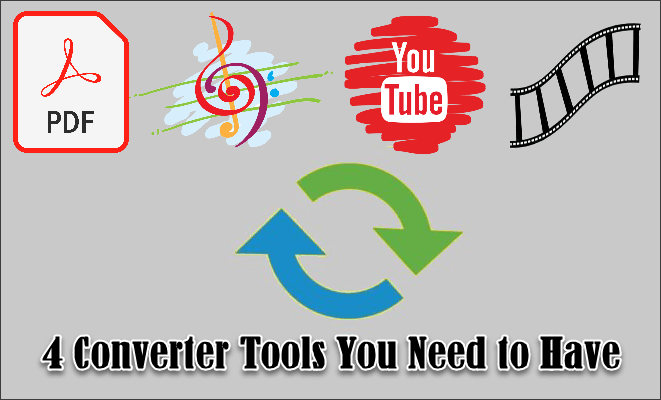 PDF converter
If you currently work remotely, a free PDF converter and web-based is the best choice in this class of converter. A browser-based tool for this kind of job is preferable because of its convenience and ease of use. With a browser-based PDF editor, you will only need an Internet connection and you should be good to go. You can do remote work from anywhere in the world, and can deliver even when you're in transit or relaxing at the beach.
With PDF conversions, the most basic of operations usually involves converting from Office-based file formats like Word, Excel, and Powerpoint. If you need to convert Word to PDF, a web-based PDF converter like GoGoPDF should be more than enough for your immediate needs. You can create a bookmark folder containing all kinds of online converters so that you'll be at the ready if and when something regarding conversions arises.
Music converter
Although we are living in a world where music streaming seems to be the norm, having access to a music converter can be a saving grace when you want to save videos, sound clips, etc. into audio files that can be saved and listened to on any device. Although there are quite several online choices you have for this converter, if you can get a separate, dedicated, third-party application for it, the better.
You don't need a high-end digital to analog music converter that has powerful features, just the basics: look for features like converting to and from mp3, aac, and some newer codecs for lossless listening.
The average user should be fine with the free applications of the Internet, even the online ones where you just upload the file you want to convert, but for those who work with audio files every day, consider buying a subscription or the full application to get those nifty features.
YouTube video converter
Trust us when we say that you will need to convert and download a YouTube video at least once in your life. That's why adding one in your bookmarks folder in advance will save you a lot of time searching for the right site that will let you do all of these things. YouTube is a haven for videos that are perfect for learning, or as a reference, and even tutorials.
But we all know that the site, or app for that matter, won't let you download videos directly to your device: not unless it's in-app, and even there, you'll need to have a working internet connection to do so. Offline viewing may be a nifty feature for those who just want to watch videos, but when you want to use a YouTube video for a presentation, for example, you'll need a dedicated video converter for it.[adsense]
Video converter
There's a YouTube video converter and there's a video converter. The difference is stark, but these converter tools do not substitute each other. You'll need a separate video converter for tasks like converting videos from your own devices, e.g. cameras and phones, to universally viewable and uploadable files.
For this job, you have lots of options, ranging from dedicated applications you can separately download to online, web-based tools that you can access from any browser. Any Video Converter Free is a great place to start in terms of third-party applications while Freemake video converter is the one to-go-to when it comes to web-based applications.
Takeaway
Always remember that the more you create, the more you need to have the power features from all of the converter tools listed here. If you can't afford a subscription to each one, find great alternatives that can supplement your workflow. The most important thing about these tools is that you have them tucked away for future use, so once you need them, you can easily access the applications.