Data loss events are quite inconvenient, most of the data loss events happen due to failure of the storage media like SD cards, USB flash drives, hard drives, etc. Though today we can easily recover lost data, it still does not mean that you should be careless about protecting our data. When the system gets infected by a virus, it is very likely it may end up damaging your data. The pen drives get corrupted or become inaccessible due to multiple reasons.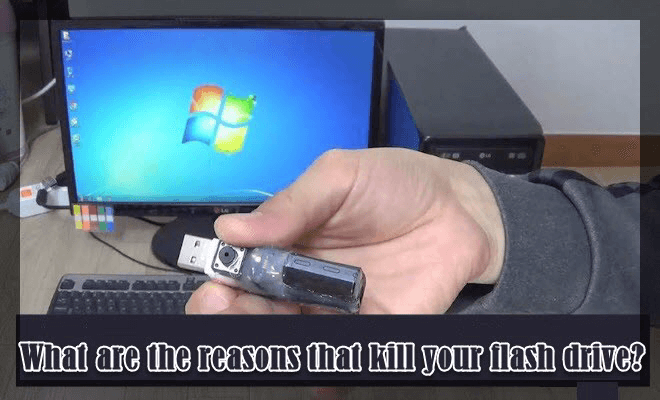 Before we talk about The reasons that corrupt your external flash drives, it is important to have quick look at some precautions. Whenever you connect your external flash drive with your computer it is suggested to scan them first using anti-virus software because it might be infected with some viruses like Trojan, etc. It is also recommended to copy the data in the computer or maintain a backup in some other storage device.Now let us discuss some of the top reasons that make your flash drive inaccessible or kill your flash drive:
Data corruption:

There are multiple reasons why data gets corrupted, apart from the most famous reason that is malware software, it can also happen in situations like when you transfer the data from your system to your external flash drive, and you immediately disconnect it once it is done, there is a chance of getting your data corrupted, and you probably won't be able to access data from the pen drive or flash drive. It is suggested to eject the pen drive before taking it out immediately and let the operating system finish the process.[adsense]

Use of cheap and nasty hack drives:

Sometimes we end up buying cheap pen drives to save money, also sometimes we get manipulated by sellers when they offer us cheap flash drives having all the features of a costly flash drive, however that is not true most of the time because in reality these cheap pen drives are made up of dead material due to which it shortly becomes inaccessible.
Connected flash drive with system permanently: if you tend to keep your flash drive permanently plugged in your system, you might be risking your data. When you keep the pen drive permanently plugged in, the signal voltage keeps in contact with your flash drive. Constant contact of signal voltage makes your pen drive warm, and after long hours there is a chance that it will stop working.

Breaking off USB connector:

  Sometimes when you eject a flash drive, the USB connector breaks out from the flash circuit board. Breaking out of the connector is one of the most common reasons why the flash drive stops working.
There might be many reasons why your flash drive has stopped working, fortunately, it is possible to repair the flash drive with the help of a data recovery company, with the help of specialized recovery software they will be able to make your data accessible again.