Filing documents is considered to be one strategy in formulating a system for companies, professionals, and students. People nowadays are going all out to achieve convenience specifically in securing daily records and inventories. Also, companies prefer to have a database and aim for a paperless system.
The benefit of converting hard copies into electronic copies is creating an established catalog of files following a specific timetable. An effective format that is being used in today's daily
hustles is the PDF provided that word formats are uncommonly put to use nowadays.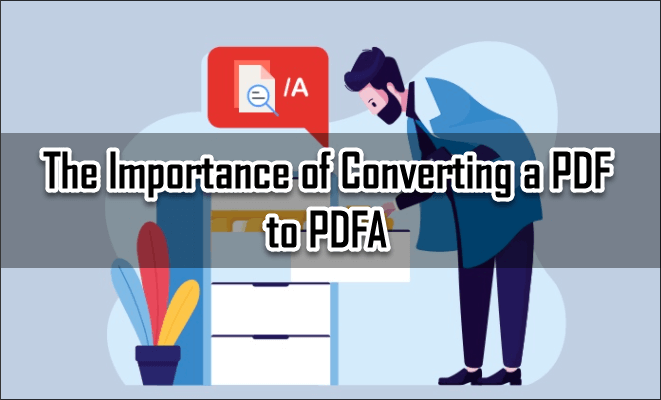 What is PDF/A?
And as far as standards are concerned, PDFs are now eligible to be accessed from long-time preservation. You can now convert a PDF to PDFA by utilizing the search engines for applications concentrated in the conversion of files. A PDF/A is a document format that passes the ISO standards that were accepted in the year 2005. It is made to be available for storing and extracting files for a long period.
How to convert PDF files into PDF/A?
The way the PDF File is converted into a PDF/A will allow the digital print to stay as-is. This format has been used for many years and is most recommended by huge industries. There are various websites that house several conversions that correspond to any filing system of a certain organization.
Here are some steps to follow in getting your PDF/A format:
Select a file converter application or software
Open a browser and search for a website or application that is created in converting several types of file format. Create an account if necessary in order for you to grasp all the features to improve your documentation. On the other hand, you can use gogopdf.com to get more assistance.
Prepare your file
Select from your computer's file folder the PDF file you want to convert. Choose the appropriate files that are relevant for long-time archiving. This will help you track your status when you are performing a 5S or creating a framework for your company's or business's archiving system.
Utilize the software
Drag the selected PDF file from your computer, cloud, or drive into the box. Wait for the software to perform the conversion process. Once it says complete, you are good to download it save it to your preferred file location.
What are the key points of having a PDF/A?
The format preserves the quality of the document for over 10 years or more. Compared to the PDF alone, there might be gradual changes from its original layout as years pass by. There can be a time that it will not be accessible by other readers or browsers because of higher specs.
The security of PDF/A is high. The resources used through the chosen software have tools to comply with data privacy. Thus, the converted file will not be exposed under the software's server. The power of applying security also validates the authenticity of the reproduced file and will be considered reliable for sorting files electronically.
Conversion tools are readily available for the user to take advantage of. These tools can include high-speed conversion depending on the file size, compatibility with various operating systems, and encryption is not allowed.
Everything is embedded on the PDF/A document including the images used, elements such as raster and vectors, text style, and the color codes used by the developer if applicable.
It is ISO-standard. As mentioned earlier, PDF/A was first accepted in 2005 and is still considered in the year 2020. Meaning there are various features in PDF/A that are very essential in archiving electronically, especially those legal documents that need to be legit even after undergoing the conversion process.
What is the difference between PDF and PDF/A?
From a raw word file format, conversion to PDF file is way more than user-friendly. It is like a grab-and-go package that one can easily access. There are more PDF users now, especially those people who are not into arranging files accordingly. Few people are knowledgeable on the features of PDF/A. But with the existence of PDF/A, this one is highly appreciated by those who value an existing file that can be used after some time.[adsense]
Summary
Getting prepared for the growth of the digital era is a head start. Paperless systems and reliable archiving of documents from created hard copies years ago lighten and help companies track their performance and services. Electronic copies are now accepted also if you are applying for a job, creating a presentation, or advertising your presence online. With the aid of gogopdf.com that has been built to convert multiple files, not only a PDF/A is acknowledged but also your services and documents are authenticated.