If you are a social media manager or digital marketer looking for organic Instagram growth, you will understand the hard work it takes to schedule social media posts in advance. It requires constant evaluation of the profile analytics and insights to obtain more Instagram likes and engagement.
Hootsuite and Buffer are the most popular social media marketing platforms. Both come with similar product features that are beneficial for organic Instagram growth. But which one is best for social media marketing?
Well, that's what we are here for. We will provide you a reliable guide with the best list of comparisons between Hootsuite and Buffer. And by the end of this article, you will be able to decide which one of them is the best social media marketing tool.
Let's look at some of the comparisons between Hootsuite and Buffer –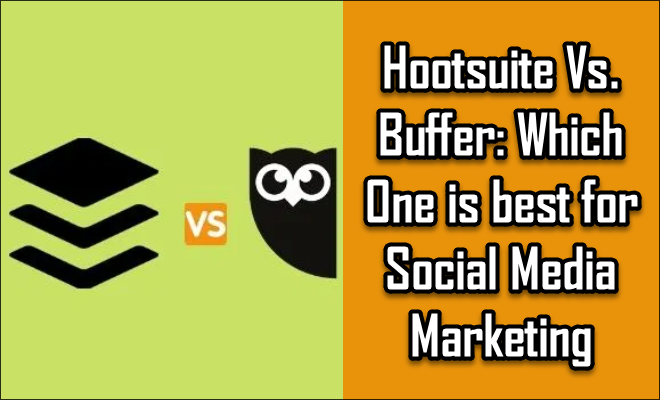 Standard Product Features
Both Hootsuite and Buffer are powerful social media scheduling tools. Based on the pricing plan, both of these social media marketing tools provide a wide variety of features beneficial for organic Instagram growth.
Some of these features include –
Auto-scheduling option
Bulk scheduling
Publishing calendar
Campaign planning
Social listening
Additional features such as hashtag management or publishing Instagram stories are available for high pricing plans. However, these are crucial for gaining more Instagram followers,  views, and engagement.
Let's explore some more product features of Hootsuite and Buffer –
Types of social networks supported
While Buffer supports five major social networks like Twitter, LinkedIn, Facebook, Instagram, and Pinterest, Hootsuite provides wider coverage. Hootsuite allows users to schedule posts for WordPress and YouTube as well.
Social Interaction
What's the point of managing a social media account if you are not able to interact with the media? Hootsuite is the best tool for this category because it allows you to interact with the media or audience with its Streams feature.
The Streams feature is similar to the native interface on any social media network. Moreover, it increases audience interaction leading to more engagement on Instagram, increased Facebook likes, and organic YouTube promotion. Unfortunately, Buffer lacks behind in this feature unless you choose the 'Buffer Reply' subscription which is quite expensive.
Analytics and Reporting
Analytics is of utmost importance when it comes to managing multiple social media networks. It provides an overview of how your social media posts are working. Analytics shows you the number of Instagram likes, Facebook likes YouTube video promotion, and overall performance graph of the post.
Buffer offers a basic and limited analytics option on content for each post. However, Hootsuite provides detailed analytics on all the social content linked to the account. Moreover, it shows analytic reports of posts that may not have been posted through the Hootsuite platform.
Competitive Pricing Plans
Let's talk about the real deal when it comes to choosing an affordable social media marketing tool.
Hootsuite offers four types of pricing plans – the lowest price is $29/month for the 'Professional Plan.' This plan allows connecting ten accounts at a time.
If you are managing more than ten accounts, Hootsuite pricing plans can get a little expensive. The 'Team Plan' may cost around $129/month. Whereas, 'Business Plan' that allows connecting more than 20 accounts may cost around $599/month.
Buffer has separate pricing plans for two products – 'Publish' which is a social media scheduling tool and 'Analyze' which is an analytic product. It is cheaper than Hootsuite.
The lowest pricing option in Buffer is the Pro plan which starts at $15/month. It allows the management of 8 accounts and 100 scheduled posts per month. Whereas, Premium plan starts at $65/month. It allows to schedule 2000 posts a month.
The Business Plan is suitable for social media marketing agencies. It allows connecting 25 social accounts for the price of $99/month.
Onboarding Process
The onboarding process is an essential part of an online user. The onboarding process usually involves smooth sign-up and a clear presentation of all the information about the tools on the website. Let's breakdown the onboarding process of Hootsuite and Buffer –
Onboarding Process of Hootsuite
Hootsuite provides good detailed information about their product features, pricing plans, and free trial policy. However, its sign-up process requires a lot of work. For example – if you want to sign up for a free trial, it takes you to a separate page to pick a pricing plan before signing up.
Moreover, once you choose a pricing plan, you are asked to choose between monthly or annual payment plans. After this, you need to enter your credit card details to start using the free 30 days trial pack.
Onboarding Process of Buffer
Coming to Buffer, the information is laid out on the website page just as Hootsuite. However, the trial period for Buffer is shorter. But as a social media manager, you only need a few days to decide whether the chosen social media marketing tool is a good fit or not.
The sign-up process of Buffer is also long as that of Hootsuite. Moreover, Buffer offers separate pricing plans for 'Publish' and 'Analyze' respectively. One advantage of the Buffer sign-up process is that you don't need to enter your credit card details for the trial pack.
Hootsuite Vs. Buffer: Which One is best for Social Media Marketing?
Comparing the key features of both the social media marketing tools, I think Hootsuite is slightly better than Buffer for the following reasons –
Hootsuite supports multiple social media networks as compared to Buffer
It provides access to numerous social media marketing features in the Free Trial Plan. However, Buffer has limitations on the use of product features.
Social interactions are easy to manage from Hootsuite
Hootsuite provides analytics for all social content even if it is not posted from the Hootsuite platform
The onboarding process and overall ease of use is better with Hootsuite
Conclusion
Having a robust social media presence can help you FastTrack organic Instagram growth. Moreover, it can accelerate audience engagement and give you more Instagram likes, Facebook views, and YouTube subscribers.
Although there are several digital marketing tools available online, Hootsuite and Buffer are the two most popular social media tools. These are considered free social media management tools as they offer a free trial pack to test the application.
Both Hootsuite and Buffer offer a large variety of features for managing social networks. However, Hootsuite provides much more control and freedom to schedule posts and manage social interactions.