People are struggling to get a reliable internet connection during this pandemic. As everything shifted online, the demand for high-speed internet dramatically rose. It will possibly be easier for internet service providers if people use it for education and work. However, people heavily rely on the internet for entertainment purposes as well.
Google Fiber is upgrading its broadband services to help people seeking reliable, high-speed internet during this challenging time. They are now offering ultra-fast 2-gigabit internet service for $100 a month. There is only a $30 difference from their 1-gigabit service, which is for $70 a month. This plan comes with no data caps, 1-terabyte storage, and extended WiFi access, along with hardware and installation.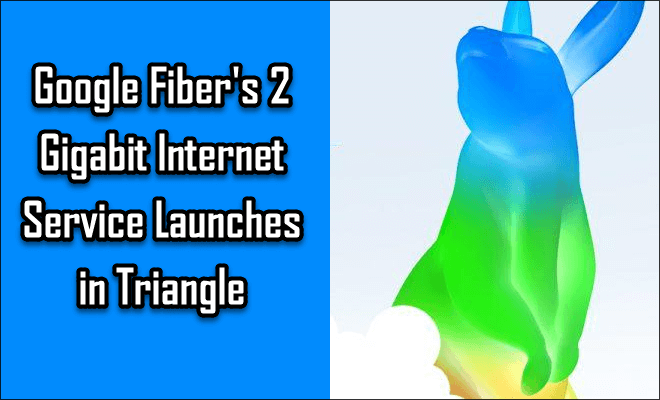 According to Google Fiber's spokesperson, they have always set a high-standard in internet speed and customer service. The 2-gigabit internet service is Google's step forward to internet speed's evolution. They want to provide extra speed for every household for whatever purposes they use it, even if they simultaneously use it.
Right now, Google Fiber and Comcast's Xfinity are the only 2-gigabit internet service providers.
Raleigh, Morrisville, Cary, Chapel Hill, Carrboro, and Durham are some of the areas where Google Fiber's network is available. However, they are continuously expanding their service footprint. The 2-gigabit network plan comes with a 2GB download speed and 1GB upload speed with no data caps, and 1TB cloud storage. It also includes up to 800Mbps over WiFi along with a WiFi 6 router and mesh extender.
So, what can a 2GB internet service offer us?
Google Fiber says that we would experience approximately 20x faster download speed and about 86x faster upload speed than the average cable internet service.
According to Broadbandnow.com, 99% of Wake and Durham already have broad internet access with 100, while Orange is at 95%. Currently, AT&T, Windstream, Ting Internet, CenturyLink, and Frontier are offering 1GB internet service in other areas.
Why should I switch to a 2GB internet service?
There are various factors you should consider in upgrading your current plan. Of course, if you are satisfied with your current service, there is no need for an upgrade. Here are some of the factors you should consider before upgrading.
The number of people using your network
If you live in a household with a large number of heavy internet users, upgrading would be an excellent choice. Internet speed usually slows down when a large number of users use it simultaneously. Especially during the pandemic, it would be smart to upgrade your internet speed as almost every activity is held online.
What you will use it for
Gaming and streaming services like Netflix, Planet Dish, and Hulo would be a struggle if your internet cannot handle too much bandwidth. Now that government officials ask people to stay at home, we only have limited entertainment options. Also, online learning and work from home became the new normal. Your internet could slow down while you are in meetings or classes, especially when people in your house are using the internet nonstop.[adsense]
Your monthly budget
Upgrading to 2GB internet seems easy, but it might get heavy after three to four months of paying your monthly bill. Your financial capability is a vital factor that is needed to be thought through. However, a reliable internet connection is also an investment nowadays. It can save you from a lot of stress and hassle.
The Takeaway
Google Fiber's 2GB internet service can create endless possibilities for the industry. This launch was also timely during this COVID-19 pandemic as people need a reliable connection to continue with their work and studies. Fortunately, another option will open up for people who badly need an internet upgrade.