Laptops have become the hard and fast truth of our everyday lives. Desktops and PCs are tales of the past. In the 21st Century, everyone is looking for compact and transportable devices. Laptops are a game-changer in this arena. However, with the growing demands of laptops, the range of laptop brands have also consistently increased. The two best laptop brands that make it to the cut are Dell and HP. But, picking between the two can be an excruciating task.
Hence, we are lending you a hand in deciding which laptop is the best one out of the two. To find out more, read ahead!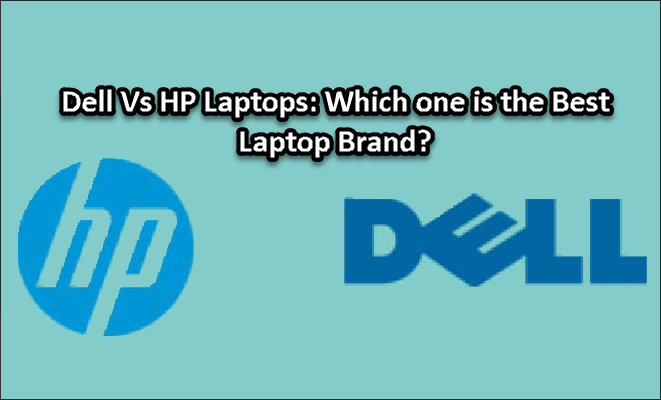 Design
There is a dispute amongst users in regards to which laptop has a better design. Some say that HP has the upper hand in this arena. HP laptops come in limited colors, unlike Dell. However, they are stylish and sleek with their silver matte finish and aluminum frame.
Dell laptops on the other hand have a very standard design. They seem to focus more on the functionality of their laptops than the appearance. However, as of late it is remarkable how Dell is slowly upping its design game. For example, Dell's XPS 13 has a slim, aesthetic profile and white-gold chassis. Dell's Alienware laptops series is also in vogue. It comes with a fancy logo, sleek design, and backlit keyboards, perfect for gamers.
Thus, for office work, both HP and Dell are a good choice. However, if you are looking for a personal laptop for gaming, going with Dell is more convenient.
Components
Dell excels with flying colors when it comes to components. Dell provides its users with high-quality and powerful hardware. As the range of Dell laptops is immense, they use various processors including AMD and Intel. Dual-core processors are present in Dell's everyday range. However, the higher-spec models have quad-core processors. They also have high-end graphics cards and processors. The best of Dell comes in the form of the Alienware series and the Inspiron series.
HP does provide its users with good components. However, it isn't as impeccable as Dell. The only place where it beats Dell is in terms of battery life. HP uses 3-cell as well as 4-cell batteries. Whereas, Dell favors only 3-cell batteries in their laptops. Thus, Dell gives you faster and reliable processors and HP that gives you long-term battery life.
Innovation
Innovation is a factor to be taken into focus while deciding on which laptop to choose between Dell and HP. It is again when Dell steals the show. Dell monitors the needs of its users. It constantly adds new features and technological updates to its range. Some of Dell's laptops now come with an infinity edge- a feature of a borderless screen. Apart from that, the XPS range by Dell is a perfect example of how constantly they innovate.
Some of their machines from the XPS range have a single chip that houses both the CPU and the GPU. It also lets users control their mobile phones with the help of laptops. Video editing on laptops has become easier with the innovations in the Dell Precision series.
Now, HP is a brand that focuses more on its other products like scanners, printers, and other hardware essentials. HP also provides its users with a touchscreen interface on its laptop. And is still very versatile. Their newer laptops have advanced features and yet, they are entering the innovation game slow. Therefore, even though HP laptops maintain their name in the market, Dell is going to win in the longer run.
Gaming:
An essential part of owning a laptop is gaming, irrespective of age and gender. It is visible how while buying laptops one of the questions that the customers ask is about gaming. It is because a gaming laptop has a high GPU, better cooling, and several other winning features than everyday laptops.
Traditionally, it is Dell who dominates the gaming laptop market. The Alienware series by Dell caters to the needs of all users' gaming specifications. However, in recent years the competition is toe-to-toe. HP has recently taken out the Omen gaming laptop, which is giving Dell good competition. Both the rangers are good in terms of durability, RGB backlit keyboards, powerful GPU units. The cooling system in both machines can support the latest FIFA or GTV games. However, HP is the new beast in town, the power and speed with an Intel i9 processor, NVMe SSD is more attractive.
If you are looking for a new and ultimate experience then HP is the one. But if you want to stick to a budget, Dell is not a bad choice either.
Price
Dell offers laptops at the most budget-friendly cost. However, it is HP's pricing that suits most buyers. The reason why HP laptops are costlier than Dell laptops is that the components and materials HP uses are more expensive. The durability and battery life of HP are also higher than Dell. Thus, if you are investing your money in something as valuable as a laptop, HP will give you the correct price for it.
However, it is essential to consider budget laptop buyers too. It is then when Dell becomes your only and ideal option.[adsense]
Support
Dell gets a five-star rating when it comes to customer service. The after-sales service and customer support are fast, efficient, and truly satisfactory. HP also provides valuable support to its customers but lags with pace and efficiency.
Conclusion
Choosing the final product depends on what the user prefers more. If you are looking for a laptop that provides unparalleled customer service and fast processors, Dell is the pick. In case, you want innovative designs and higher-class components in your machine, buy an HP laptop.