The retro era that consisted of the decades of 1920s to 1960s is distinguished by the usage of neon effects. This era was represented by the brightly colored signs around the whole country's streets that give off their own special vibes.
Even though the age of the neon signs is from a distant past by now, it is still considered as a stage of excellent personality. The colors mark the retro nature of the time period as having a particular ambiance that is an emblem of the age. This is why it is an era that has been kept fresh and keeps making a comeback.
Neon signs have been replaced by more environmentally friendly alternatives in recent times. However, the internet has allowed them to once again resurface as a charismatic way to display something. Many online websites have capitalized on this nostalgia factor by incorporating neon signs into their web pages in order to attract people. Thus, the neon effects continue to symbolize an aesthetically pleasing view even in the internet age.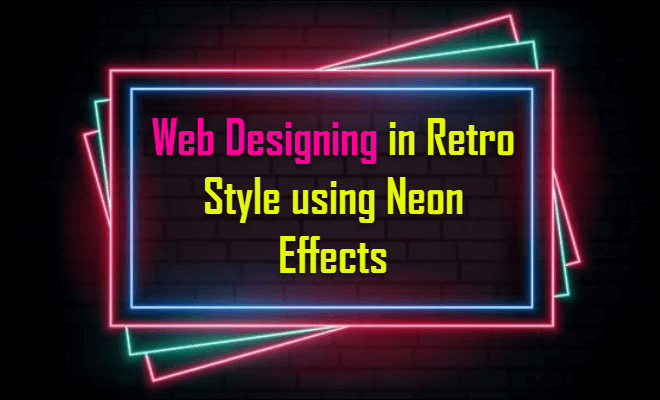 In web designing, neon effects can provide a certain artistic touch to the website. These can be used to highlight a name tag or headlines. The stylistic nature of the neon effects even comes in handy when focusing on important details inside a webpage. If you want to incorporate these effects to your webpage to give it a rather distinct look, do make sure you have conveyed the same to the web design services New York you have hired.
In this article, we will look at some unique examples of snippets that you can use to enhance your web designs with the help of neon effects.
Aaron Minnamon's Hot Ones
This is an excellent design that gives off a feeling of the 50s in the American metropolitan areas. The style is brilliant, strong, and challenging. With the usage of HTML, CSS, and Javascript, this amazing animation has been brought to life with constant flickering. This feature of the design makes it look very veracious.
Riccardo Tartaglia's Neon from Las Vegas and Nodws's Dribble
These neon signs are known for their traditional value. These ideas impeccably mirror traditional neon road signs. Both, the Dribble devoted project and Neon from Las Vegas, are awesome and extraordinary in their own right.
Both of these styles consist of neon signs put against a brick wall. They are improved with small elements with a splendid appearance in order to cause the view to look alive. It is an interesting feat by the artists who have managed to use simple codes to make these signs not just aesthetically pleasing but also very lightweight.
Kyle Lavery's Vintage Neon Sign
Kyle Lavery's Vintage Neon Sign is the best for an unquestionable vintage feel on your site. This sign's laid-out typography, lined up with neon shading and upheld by a wonderful cylinder-styled foundation radiates an awesome vibe of the 60s on all fronts. Despite the fact that the design does not use any fancy font style, it will without a doubt add some extravagant feel to any website.
Simone and Elwin Van Den Hazel's Neon Buttons
These two code snippets are the perfect example for interfacing buttons on your website with neon signs. Not only will it give off a unique touch from the rest of the website, but it will also provide a straightforward, yet rich and inconspicuous neon button that the user will feel pleased to interact with. Both the buttons grab the user's attention with their lively color tones and shining impact.
Hugo DarbyBrown's Neon Dialog Boxes
Stepping up from applying neon style to the headlines, you can also incorporate it into the dialog boxes of your website. A simple observation of the panels of Hugo DarbyBrown's work will reveal striking and appealing boxes that are in no way an eyesore. The boring text boxes receive a huge aesthetic boost with these panels.
Final Notes
Even though the practicality of neon effects is none, the artistic value of these signs cannot be ignored. It is a tool that possesses the ability to make your website more noticeable and eye-pleasing. The simplistic nature of these effects makes them easy to apply in almost every aspect of your website.[adsense]
One thing you have to keep in mind is that the neon signs work best in darker environments. As long as you are not using a lighter UI, you should be able to reap the benefits of this excellent retro device. You should also take inputs from your SEO experts if you want to experiment with your web design. This is recommended as the performance of SEO campaigns is influenced by the design of a website.