If you are looking for a lucrative gaming option that brings you the best experience close to the real one, then PUBG is certainly the choice for you. You can get your dose of entertainment, fun, and adventure from a PUBG match right from the choices of weapons to the realistic army-themed air drops. PUBG match is something you just can't afford to miss if you have a squad of crazy allies. Whenever the idea of getting into the mood for rewarding yourself with fun and enthusiasm, you should try your hand in PUBG. But, hold on! Are you aware of the hack for PlayerUnknown's Battlegrounds to snatch chicken dinner and improve your play?
Well, no worries at all! This post is just meant for you! Have a look at some clever tactics and crucial points that you must keep in your mind to make sure you grab the 'Chicken Dinner' badge instantly. Here we introduce you to the sure-shot ways that can help you become a pro PUBG player: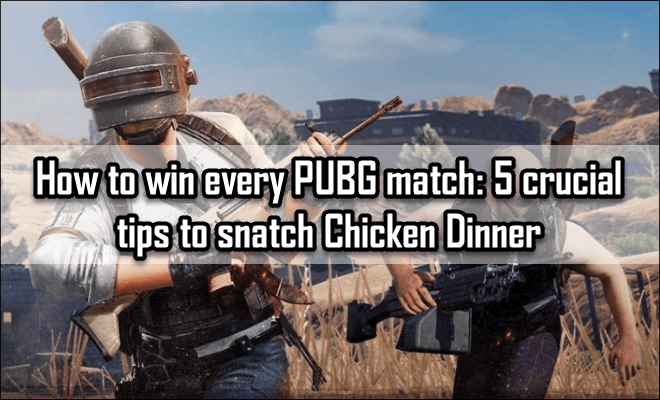 Tip #1- Stop Being Too Cocky
Be careful while playing and don't think that you have become a PUBG god overnight. Your overconfidence can turn a winning match into bad luck and you have to accept this. It is pretty obvious that you will become cocky when the more you progress. However, this is something you should avoid falling for this. Of course, winning the first game brings you a feeling of pleasure. However, you should avoid being cocky after that. The number one tip here is that you should never stop learning. Keep your eye on the hacks that make you go getting better in the game.
Tip #2- Pick Different Types of Weapon
Your weapon plays a key role in the game. If you think that you are good with a particular weapon, don't make the mistake of picking two of them. Your weapons make your chances of winning a 'Chicken Dinner' badge strong. You can easily make your chances of winning strong by using different weapons in different scenarios. Make sure the two guns you choose must have different types of ammo. This way you can always keep yourself on a safer side if you run out of one. Apart from this, choose weapons differently based on your specific requirements.
Tip #3- Use Good Helmets and Vest to Stay Protected
If your target is to be a pro player and win the 'Chicken Dinner' badge, you should make it a point to use helmets and vest. The helmets and vest keep you protected during the fight and save you from headshot as well. It is always worth it to wear helmets and a vest when playing with the level three helmet, as it will be beneficial to improve your play.
Tip #4- Team Efforts Will Do a Job
It is no denying that you always want to be the best. However, you won't always win if you don't listen to your teammates. PUBG match is all about team efforts. You should list to the calls that your teammates make. When you are playing squad matches, it seems perfectly fine to listen to your team and trust them to perform well in the match. Communication is a key in a PUBG match and you should communicate properly with your squad and you are good to go. Otherwise, your ego will end up in a loss in a game for your entire team.[adsense]
Tip #5- Hide in Bushes As It Works Surprisingly
This might sound crazy but it actually works. When you are looking for a good stealth option, bushes would be the right choice. The bushes will help you hide yourself from enemies and it makes sense when you want to cover yourself. Since it won't give you a hard cover, no one will shoot you. If no one can see you, then he won't shoot you and you will not die. Perhaps, this trick makes a world of difference while playing a PUBG match. Therefore, hide in bushes and let others wonder where you hide and shot them from.
Final Words
Winning a PUBG match is not at all rocket science. You can use the above-mentioned tips and win PUBG match like a pro. In fact, you can make your own tactics to improve your chances of snatching the Chicken Dinner badge. Don't forget to make your own strategies and enhance your skills in an instant. Other than this, make sure to play PUBG on PC and get an enhanced gaming experience.