The audiovisual industry is striving for a more realistic and stimulating "sense of presence" that is driving the advancement of HD and ultra-high definition technologies. Many years after the introduction of 4K technology, the china country has made a breakthrough in adopting 8K technology. Not only in china because Skyworth in USA is already a globally renowned OLED TV brand, and its rapid and growing success is a testament to Skyworth USA's commitment to quality design and engineering. CCTV 8K ultra high definition TV channels have been successfully launched and 8K technology is about to enter millions of households. As a leader in the ultra-high definition video industry, Skyworth launched China's first 8K OLED TV in Beijing in April 2021: Skyworth 88W92. Also onstage was Skyworth's first convertible OLED TV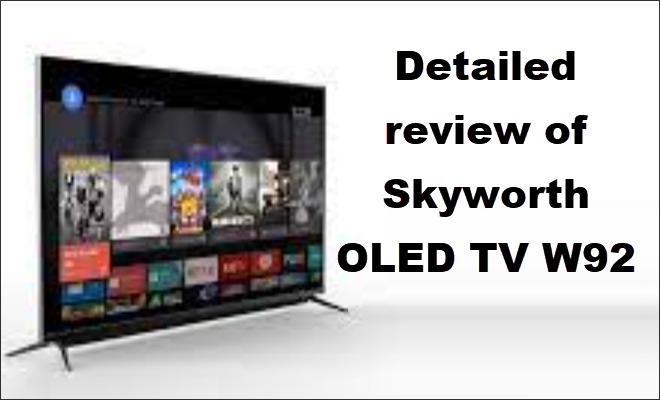 Real display with full high resolution:
Skyworth 88W92, as the first leading role of the tasting, this 8K TV, based on the industry's largest 88-inch OLED screen, gives people the most intuitive feeling: in front of this screen, the human eye is very easy to see through it. Attracted by the "magic screen", I cannot help but stare at him intently. When playing 8K video, this screen displays smooth light and beautiful and subtle visuals, allowing the viewer to experience multiplication of visual stimuli, so the brain cannot help but work quickly to get more visual information.
8K OLED and Superior sound quality:
Moreover, in order to make the audiovisual effects of large-area TVs more reliable, Skyworth 88W92 TV is also equipped with the industry's first ultra-large "audio glass for sound reproduction". The extra-large glass screen in front of you is a 100W total output of audio diaphragm that precisely controls the position of sound emitted from the surface of the screen.
Three axis rotation AI camera:
Skyworth's first convertible OLED TV was also shown on stage: the Skyworth W82. The innovative shape of this TV gives the author a very intuitive and intelligent feeling. The TV backplane is made up of 37 fish scale retractable rear panels, and with the flexible OLED panel, the TV screen can be flexible, straight and intelligently deformable, breaking the traditional flat or curved TV screen.
The TV also features a 12-megapixel AI pendant camera with triaxial rotation that allows the camera to shoot in all directions. The CMOS camera has a large single pixel area with a large f / 1.76 apertures, and allows you to get clear images in low light conditions. It can perform functions such as family care, panoramic family portrait, portrait tracking video call, etc.
Gleaming screen color:
OLED screen W92 directly uses LED indicators to control screen color. Compared with a traditional LCD screen that emits light through a white back panel, it is thinner in volume, more colorful in color, and can display deep and pure blacks. The brilliant combination of 8K and OLED allows the W92 to have an ultra-wide viewing angle even when viewed from 180 degrees without distortion. The 120Hz OLED display used by Skyworth W92 has 130 million self-luminous pixels, providing an extreme contrast ratio of 10 million.[adsense]
Final thought
Skyworth in USA Corporation is a fast growing industry leader offering latest technology products and solutions throughout North America. Skyworth Glass Sound 8K OLED TV W92 features an 88-inch 8K 120Hz OLED panel, which is rare in the market, as well as Skyworth's proprietary design and the world's first Skyworth audio Glass sound technology. It must be said that Skyworth's W92 breaks the industry's technology ceiling with innovation this time and takes the audio and video quality of the TV category to a whole new level!