Whether you are looking to drive more traffic to your website, increase footfall in your physical locations or even market your product or service on the telephone, there are so many different means available to you through which you can build customer engagement with your own unique brand. So you could be forgiven for not having the creation of a dedicated app at the forefront of your mind, or at the head of your list of priorities. Nevertheless, it has been shown that having one is one of the most effective ways for you to enhance client engagement.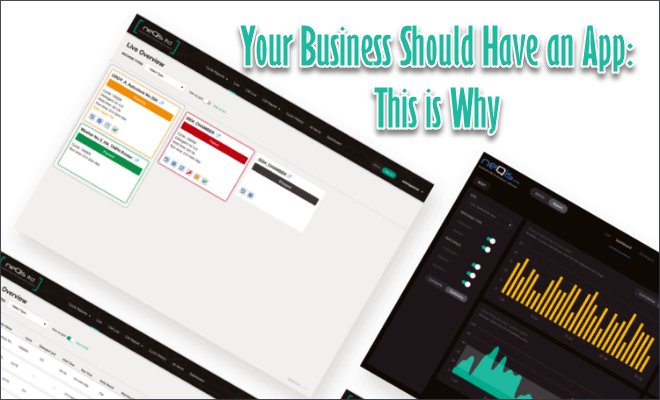 What is more, there are other advantages that having an app for your brand will bring in its wake.
Connect with your customers
Once of the best ways of ensuring customer engagement is to build a lasting relationship based upon trust. An app ensures regular interaction between you and your client, which is a sure way of developing that sense of reliability and confidence.
One little-known tenet of marketing is that trust is built at a point at which the customer has seen your business' branding a minimum of twenty-one times. This need not involve twenty-one separate transactions, it is merely required that the brand is visible and recurrent.The very appearance of your logo or design on an app in a store on your customer's device should be enough to instil trust in your product or service. The fact of your presence will in itself drive engagement and establish you as a dependable player in the field.
This can clearly be seen in the growing success of online retail stores. Quite often these would not necessarily be the customer's first choice of outlet, however this can be more than compensated for by the slick design and the ease of use of the retailer's app. The clothing stores Zara and ASOS boast an impressive 98% rate of re-engagement with customers. This minimises the need to constantly seek out new trade, as existing customers just keep coming back. Their secret is to be found in repetition, consistency and familiarity. Visitors will feel immediately connected whenever they view the app and will be comfortable using it, ensuring they are certain to return another time.
Engendering loyalty to your brand
Having achieved brand recognition and introduced your product to a customer for the first time, it is important that you build a sense of loyalty to keep them coming back for more.
One way of doing this is through a simple loyalty scheme. Used by an increasing number of businesses from supermarkets to coffee shops and from hotels to petrol stations, such a scheme is designed specifically to bring one-time customers back through your doors. Today, through the targeted use of technology, schemes of this kind are pleasantly easy to manage and their genius is in creating a sense of unfinished business once a purchase has been made. An incentive to return, whether it be a discount on a future purchase or points to be collected, is one of the most powerful drivers for generating repeat business.
Wish, the online retail outlet, encapsulates this modern approach to marketing extremely well. Applying an impressive understanding of customer psychology this global e-commerce platform specialises in encouraging repeat visits in order to effect multiple sales through an imaginative incentive system of product discounts and loyalty stamps.[adsense]
The psychology applied is based on a simple understanding of the consumer's desire to be rewarded for returning to the same vendor. The illusion is created that the buyer is making savings on repeat purchases, whether or not there had initially been any intention to buy further items in addition to the first.
Keep customers in the loop
One feature that is being used increasingly by sellers and other providers of information is the push notification. This is a small window which pops up on the screen of a subscriber's smartphone or laptop and which provides all the latest updates that may be of interest to the recipient. When the push notification is clicked on it takes the interested party to a dedicated page or destination which contains selected further info.
Push notifications are the online equivalent of the newsflash which has long appeared on our television screens when the channel feels the need to alert us to some major event that is taking place somewhere in the world. They can likewise be used to convey news, but they can just as easily be used to promote special offers, discounts, new products or related information. Anything which might otherwise be sent out by text, e-mail, letter or telephone message can be transmitted in this way.
Research shows that this is a surprisingly productive method of communicating with actual or potential customers. Whilst e-mails seldom generate any more than a 15% engagement rate , push notifications will bring up to 45% of targeted traffic to your app or website. More engagement means increased buy-in, and more sales.
It is always a good idea not to overdo things on this front, bearing in mind that phone manufacturers do provide their own customers with the means of regulating the content they are able to see and if needs be of switching incoming notifications off. Nevertheless, my minimising the amount of low quality content transmitted and by sticking to sending out important news and information this is one of the most efficient ways of communicating that is available to any business .
Be innovative, be smart
Creating an app for your business gives your customer new options and announces you and your business as being up with the times. It isn't necessary for the app to replicate the same functions of your website, rather it should compliment your web presence and add value to it.
This is where it pays to use your imagination, as well as to do a bit of homework and find out what others are doing with this exciting new medium of digital communication.
Don't forget that your app carries your brand. Always remember that is an essential feature of your communications portfolio, and be sure to use it in smart and innovative ways to communicate and get your message across – both to your existing customer base and to those you want to reach out to.