Most people love to travel due to its benefit of releasing the stress from their work environment. Some travel because of work and some for adventures. Traveling makes it easy when you are wearing a timepiece to help you navigate and manage your time. Selecting the best brand for your adventure, you should go with the famous ones like the Rolex.
Rolex has a collection of timepieces just for travelers; that is the Rolex Sky-Dweller watch. This collection has all the needed features for a traveler, such as a calendar window and a dual time zone. In addition, they have a wide variety of designs that you would all love. Here are some of their newest released models.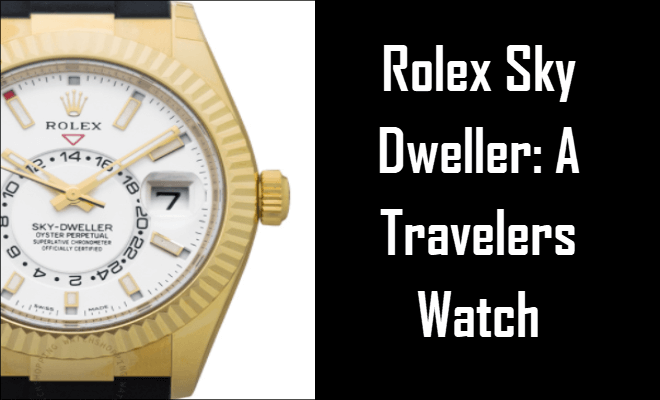 Sky Dweller 326238-0006
This timepiece has an elegant design with a sophisticated touch of black and gold made exclusively for males. This trailer watch blends perfectly in any possible occasions you might be attending during your travels. The Rolex Sky Dweller price is slightly pricey, but it is reasonable because of its high-quality materials and features. 
It has a white dial with 18 ct yellow gold hand markers and hour marker indexes. It also has a dual time zone feature surrounding the hand markers of the watch, and on its three o'clock, there is a calendar window. The case of this timepiece is round with a solid back and diameter of 42 mm in 18 ct yellow gold material. The bracelet or band of this watch is rubber in black color.
It has an automatic movement with a 72-hour reserve power and a caliber of Rolex 9001. When traveling around the globe, your watch should be waterproof in any water activities you want to involve. Well, this Rolex Sky Dweller has water-resistant by 100 meters.
Sky Dweller 326939
The Rolex 326939 is one of the latest models of the Sky-Dweller collection that are perfectly crafted for men and women. In addition, this watch has a luxurious look because of its white and silver color combination. This model is a perfect pair of accessories for business travelers because it blends easily with any corporate uniform.
It has a white dial with 18 ct white gold hand markers and hour markers. Inside of the dial, there are two amazing features, the calendar, and the dual time zone. This classy-looking wristwatch has an 18 ct white gold case with a diameter size of 39 mm. The bracelet and buckle are made of white gold material.
It has self-winding movement mechanics that can bear any shock and can adapt easily to different temperatures. It has a Rolex caliber and a reserve power of 72 hours. To complete its adventurous role, it has a water-resistant of 100 meters.
Sky Dweller 326938-0004
This model is another luxury-looking watch to love from the new collection of Rolex Sky Dweller. It has a masculine design that is best for men who travel for business purposes due to its elegant design. It fits perfectly in any formal events and formal everyday wear. It has a black dial with 18 ct yellow gold hour marker indexes and hand markers.
Inside of its black dial, there is around dual time zone feature and a calendar window located on the three o'clock corner of the watch. The bezel and case of the watch and its bracelet are made of 18 ct yellow gold.
The movement of the watch is automatic with a caliber of Rolex 9001. It has a frequency of 28800 bph, a reserve power of 72 hours, 40 kinds of jewels, and a water-resistant feature of 100 meters.
Sky Dweller 326935-0005
This model is almost the same as the Sky-Dweller 326935-0004. It has an elegant design with a classy finish that would go perfectly in any formal everyday wear. In addition, it has a Rose gold and white color combination making it unique for male wearers. [adsense]
It has a white dial with luminous rose gold hour markers and hand marker indexes. It also has a calendar window on its three o'clock and a dual time zone feature. The only difference between these two designs is the color of the gold used to complete its look. The 326935-0005 model has an 18 ct Rose gold case, buckle, and bracelet.
Takeaway
Rolex Sky-Dweller might be a little pricey compared with the other brands, but they surely guarantee you the quality and the durability of the watch, plus its elegant design. When looking for the best timepiece, always choose the ones on top of the market.