This BS6 compliant motorcycle is a highly sought after product from the Austrian brand, known for its aggressive design and advanced features. Recently updated with a BS6 compliant engine, the Duke 125 continues to impress with its striking design language and bold color options. KTM duke price in India starts from INR 1.78 lakh.
In November 2022, the KTM Duke 125 model proved to be a hit among Indian consumers, with 331 units sold in the country. It is likely that this model's combination of performance, premium styling and powerful ergonomics made it an attractive choice for buyers in the market.
Whether you're a seasoned rider or just starting out, the Duke 125 is sure to turn heads and provide a thrilling riding experience. Don't miss out on your chance to own this powerful and stylish bike.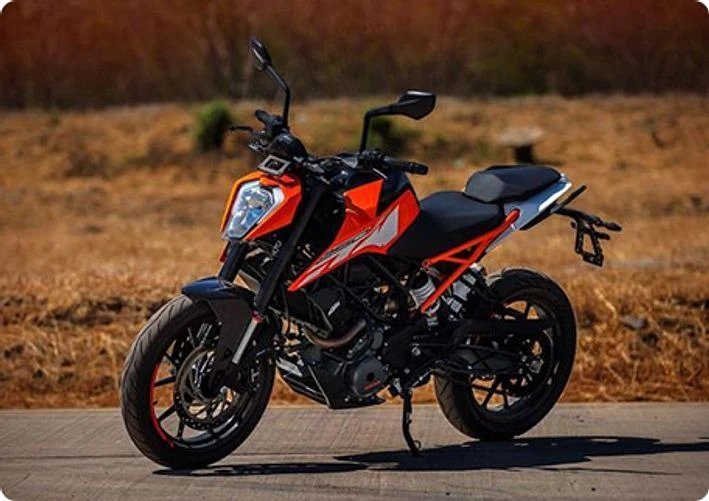 Let's look at some features that will make you fall in love with this model
Premium design and style:-
The KTM Duke in India features a sleek and sporty design that is sure to turn heads on the road. The black body panels with orange and white graphics give it a bold and aggressive look, while the orange alloy wheels add a touch of fun and personality.
The halogen headlights and LED turn indicators provide excellent visibility, and the underbelly exhaust unit gives it a sleek and compact rear profile. Overall, the design of the KTM Duke 125 is inspired by the older KTM Duke 200 and is sure to appeal to those looking for an entry-level sports bike with premium features and style.
Best in class performance:-
The New KTM Duke 125 stands out with its powerful 124.7cc, single cylinder, liquid cooled engine that delivers a thrilling 14.5 HP @ 9250 rpm and a torque of 12 Nm @ 8000 rpm. This engine is paired with a 6-speed gearbox for a smooth and responsive ride.
Additionally, the motorcycle has recently undergone an upgrade to comply with BS6 emission norms, including the addition of a catalytic converter and oxygen sensor for improved performance and environmental sustainability.
All digital console:-
The KTM Duke 125 boasts an advanced, all-digital instrument console that provides riders with comprehensive riding data and multiple functions. The BS6 compliant version of the motorcycle features a sleek, modern design, including a digital speedometer, tachometer, odometer, trip meter, fuel gauge, and clock.
Additionally, the console includes important indicators such as an ABS light, low-oil indicator, and low-battery indicator, which enhance the overall riding experience. This instrument console sets the Duke 125 apart from its competition like Yamaha MT-15 and provides a premium touch, a signature of the KTM brand.
Compact with better mileage:-
The 2023 KTM Duke 125 is a compact and agile motorcycle that is perfect for navigating city streets. It boasts an aluminum swingarm and dimensions of 2002 mm x 873 mm x 1274 mm, providing a stable and responsive ride. With a ground clearance of 154 mm and seat height of 822 mm, it offers a comfortable and confident riding experience.
The bike also features a wheelbase of 1367 mm and a lightweight kerb weight of 159 kgs, making it easy to maneuver. The Duke 125 is also equipped with a 13.5-litre fuel tank capacity, allowing for longer rides without the need for frequent stops. With a 0-100 kmph acceleration time of 14.7 seconds and a top speed of 120 kmph, it provides a thrilling and satisfying ride. The company also claims a fuel efficiency of 45 kmpl, making it an efficient and cost-effective choice for daily commuting.
Better Suspension:-
The KTM Duke is equipped with advanced suspension technology to ensure a smooth and comfortable ride. The front suspension features 43mm upside-down forks from WP, while the rear suspension is mated to a WP monoshock unit. These high-performance suspension systems provide excellent handling and stability on the road.
Powerful braking:-
In terms of braking, the Duke 125 is equipped with a powerful 300mm single disc brake at the front and a 230mm single disc brake at the rear. The bike also comes with a standard single-channel ABS system, providing enhanced stopping power and improved safety.
The bike is equipped with 110/70-R17 front tyre and 150/60-R17 rear tyre for better grip and handling. Overall, the KTM Duke 125's suspension and braking system are specially designed to deliver a safe and satisfying riding experience.
Colorful designs and prints:-
This model is available in two striking color schemes, Electronic Orange, Silver metallic and Ceramic White. The vibrant Electronic Orange option is sure to turn heads on the road, while the sleek Ceramic White option offers a more understated look.
The motorcycle features the Duke 125 branding prominently on the fuel tank, adding to its sporty and aggressive aesthetic. The orange/black colored alloy wheels add a touch of fun and flair to the design, further accentuating the motorcycle's unique style. The graphics and colors of the KTM Duke 125 are designed to appeal to a wide range of riders and make a bold statement on the road.
Conclusion
The KTM duke in India is an entry-level motorcycle from the Austrian motorcycle manufacturer and is a popular choice among younger riders in the Indian market. The Duke 125 is inspired by its elder sibling, the KTM Duke 200 and boasts a similar design language. The Duke 125 is known for its aggressive yet lightweight sports machine with a perfect combination of performance, premium styling, and powerful ergonomics.
This makes it one of the most affordable options for those looking to get their hands on a high-performance motorcycle. The bike is perfect for those who want to experience the thrill of a sport bike at an affordable price point. The KTM Duke 125 is an excellent choice for both experienced and first-time riders, offering a fun and thrilling riding experience.