To stay afloat and develop, any business needs to constantly increase sales and attract new customers. You can do this in several ways. The first is to hire more employees and spend more time working. The second is to use electronic signature technology. The introduction of an electronic signature will significantly reduce the time of signing a contract and paper usage. Thus, you can save both money and time without compromising your business.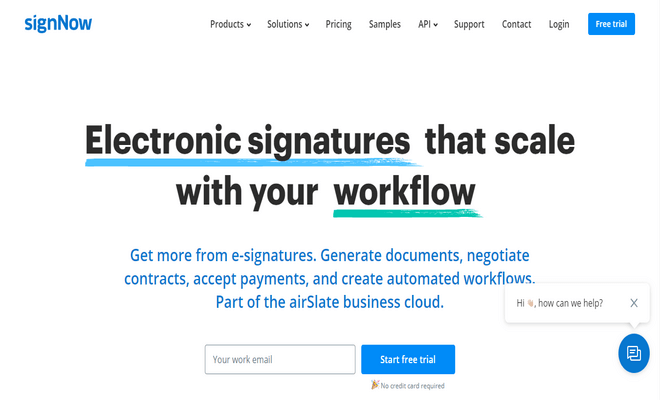 What Is An Electronic Signature?
With technological progress, more and more companies are converting documentation into electronic format. This lets them save more space, time to find the desired contract, and improve data safety.
An electronic signature is an electronic way to validate and verify documents, agreements, and contracts. This is a digital equivalent of a handwritten signature, but it is applied to electronic files.
The e-sign technology is officially approved and regulated on the state level in over 30 countries. In the United States, it is accepted in all states, but law conditions may slightly change from state to state. For example, the laws of New York, Illinois, and Washington differently define the term of an electronic signature. To be aware of all particularities, you should read these federal acts thoroughly.
What Is SignNow?
If you resolved to implement an electronic signature in your business, you have to search out a quality provider. SignNow is a provider that supplies both small firms and huge enterprises with an e-signature for more than a decade long. It has more than 20 million customers worldwide and cooperates with such famous reputable titles as:
Tech Data
Xerox
Colliers International
Tutor Perini
AMGEN
Balfour Beatty
SignNow is a company that owns numerous certificates that confirm its security, such as: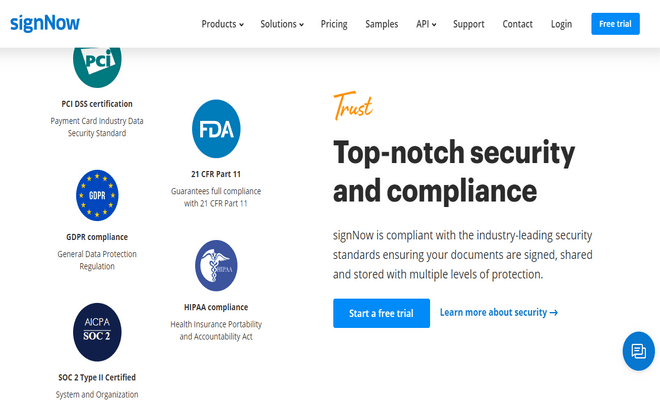 System and Organization Controls (SOC) 2 Type II
General Data Protection Regulation (GDPR)
21 CFR Part 11
Payment Card Industry Data Security Standard (PCI DSS)
Moreover, all personal information of users is reliably protected by SSL. It encrypts all the information and dispatches it to the server so no one can intercept it on the way.
Trust and satisfaction of users are confirmed by thousands of positive reviews about SignNow. For example, on the platform Capterra, it has an overall rating of 4.6 out of 5.
How to Create It?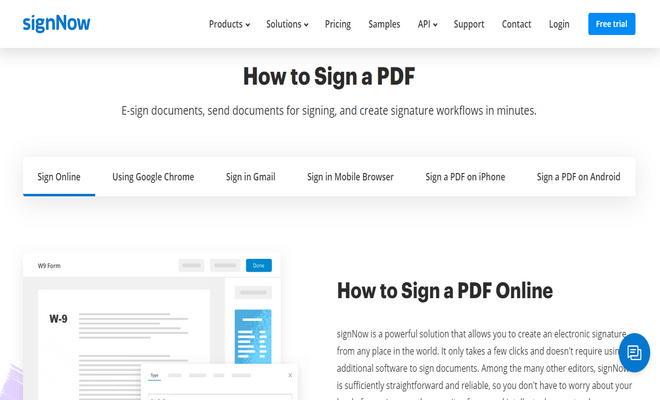 There are several methods to make an electronic signature:
Write it by means of a finger, stylus, or touchpad of your device
Create it with a mouse on a computer
Draw it on a sheet of paper, then scan it, and download it to the program
Type it on the keyboard and apply a «signature» font
After creating the e-signature, you may use it for all necessary documents. You just have to open the document, find out signature fields, and upload your signature to them. Then carefully check the file and the entered information and press Done.
Your customer or partner does not have to install any software to e-sign the document. He/she may just open it from any device (mobile, desktop, tablet, Android, or iOS), apply the signature, and confirm it. The signed document dispatches back to the sender automatically. Thus, all the procedures may take less than 5 minutes overall. This is pretty easy and fast.
The Main Advantages
Implementing an electronic signature is a smart decision for your company or enterprise. Using SignNow provider, you may get even more attractive benefits:
Attract more foreign clients. Since there is no need for personal meetings to sign contracts, it is much easier to attract partners, investors, and clients from abroad. Signing a contract with SignNow takes up to half an hour, regardless of your device or location.
Networking with the team. Due to the Team feature, you may share documents and templates for signing within your team. The bulk invite feature allows you to send as many documents as you wish at once to multiple receivers using a CSV file. Thus, all the working processes become faster and simpler.
Fewer mistakes. The introduction of an electronic signature reduces the number of mistakes in the text by an average of 80 percent. With features like Word AutoCorrect, Templates, and Libraries, you don't have to worry about the correctness of your text. Also, you don't need to re-print a new document if you made a mistake. Even if it happened, you can simply fix it in the program in a matter of seconds.
Adding the smart fields. You may transform any template into a fillable form. You may add smart fields and implement payment forms into the document. So, if you need to request payment, the receiver may easily make it within the document.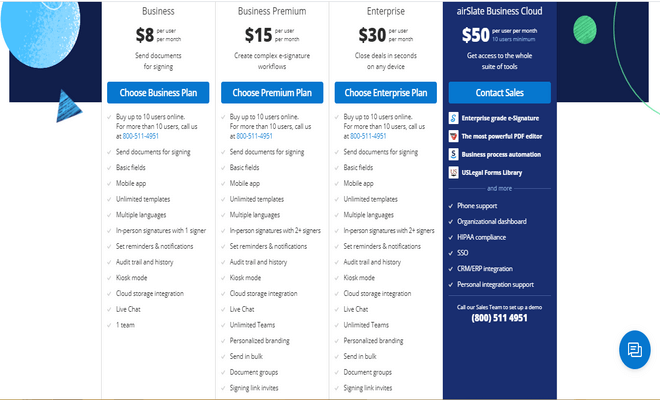 Smart pricing. SignNow offers one of the best pricing plans on the market. You may choose between 3 layers. The Business plan for $8 per one person per month suits small and middle companies and includes all the basic necessary features. The Business Premium costs $15, and it offers extended Business features with some more. The Enterprise consists of 24 exclusive features where everyone can find options to his/her taste. It costs $30 per month per one person.[adsense]
Conclusion
Implementing an electronic signature may significantly promote and develop your workflow. Thus, you will spend less time and money on paper documents and concentrate on more important tasks. An electronic signature is a modern technology to modernize your business.