We live in a generation where typing takes a big market share. Most fields require you to type either in minor or major form. So, today I am going to share the best Bangla words because writing has many aspects and writing software is one of them.
Besides Hindi and English, other languages have equal authority. Hence writing in Tamil, Malayalam, and Bengali is also important in different fields.
When it comes to naming a smart word processor, Bengali Word is the best.
In this article, we will talk about Bangla Word or Bengali Typing Software. So, if you are familiar with writing Bengali, this article will be of great use to you!  
Introduction of Bangla Word Free Download:
Bangla Word Free Download is a simple writing software originally created by Bangla Word Group. Its features and performance make it the best from others. Bengali Word is used by more than 2 million users worldwide.
The size of this software is 7MB. After installation, you don't need to download any other plug-ins.

It has an integrated 32bit / 64bit architecture.

While most writing programs have major bugs, this one is specially designed for Bengali texts.
On the internet, this software is usually known as Bangla Word Free Download. If you work with Bengali documents, this is the perfect option for you! This software offers you 39 fonts with fewer resources, which is another good reason to download it. Bangla Word Free Download Version 1.9.0 is available for free download from our website. This download was checked by our built-in antivirus and found free of malware. ".bwd" is an extension that the desktop software can open.  
Technical Details on Bangla Word Free Download:
Bangla Word Free Download is a very handy and smart word processor software, specially designed for writing documents in Bengali language. Here are some technical details about Bangla Word Free Download that you should know for downloading this software.
 File Name – BanglaWord.exe

 File Size – 6.4MB

 Format – 32bit (x86) / 64bit (x64)

 Latest Version – V1.9.0

 License – Free for personal use

 Official Website –

https://www.banglasoftware.com/
Full Details on Bangla Word Free Download:
Bangla Word is a smart word processing application, specifically designed for writing Bengali documents. Bangla text is entered using only the vowels (swarabarnas) and the consonant (banjonbarnos). The conjunct characters (juktho okkors) are placed automatically by the system if possible otherwise when indicated by the user. Bengali alphabet is mapped phonetically onto the standard QWERTY keyboard, independent of any Bangla font. Like this version you can easily watch uwatchfree movies online free from many websites. This minimizes the initial learning curve and removes the need for a physical layout template. Built using TXControl from The Imaging. The Bengali language is not only for Bengali people. If you are good in this field, there are many opportunities that you can get related to this. Most of the secondary language writing programs have a different keyboard, but Bangla Word Free Download is designed to work with the QWERTY keyboard. That means you can write Bengali from an English keyboard. Using English keyboards instead of others is really beneficial. This software was originally developed as a beta version. Due to its popularity and high demand, it has evolved into a full-fledged Bengali language. The software ensures a smooth input!  
Features of Bangla Word Software Download:
The demand of absolute fast and modest typing is fulfilled in this Bengali Word Software. Some features of this Bangla Word Software are discussed below:
Bangla Script
This feature is very beneficial for those who use different writing instruments. You can write on iPhone, iPod, or any other device with Bangla Script. You can switch keyboards and work across email and multiple social platforms with a single touch. Bangla Word Software makes it very easy to write Bengali.
Bangla word Font
As with all other word processors, the written English alphabet is converted to Bengali. Each time you type a letter, the program converts that letter to a specific Bengali letter. Bangla Typing Software is said to use English photon tones. This program performs this function!
Avoids English to Bengali Translation
Most typing programs require translation rather than character conversion. They only translate what you write. However, Bangla Word Software does not work like this. It is clearly stated that this software is not for translation. The purpose of using this software should be to write English to Bengali.  
39 Top Bengali Fonts: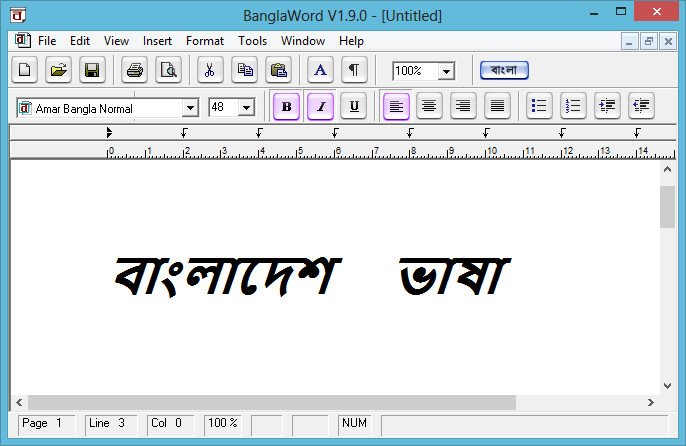 System Requirements:
Here are some brief details about the system requirements to download Bangla Word:
Operating System: All Windows Version

RAM: 128 or above

System: All Windows

Processor: Intel Premium or above

Hard Disk: 50MB or above
These are the minimum requirements for this software. If your system meets the requirements then you can free download and use Bangla Word Software for your PC.  
Supported Platform of Bangla Word Software Download:
Bangla Word Free Download is very versatile. If you use this desktop writing software, it works great. If you want to use this software on iOS devices, it can be used there too!  
Bangla Keyboard for Practice:
Many Bengali typing programs only provide a Bangle keyboard for practice. But Bangla Word provides an English keyboard because this software can easily convert English words.  
Price of Bangla Word Free Download:
Different websites offer different prices for Bangla Word. Don't fall for these scams, Bangla Word 1.9.0 is a free version. There's no need to pay even a single penny to use it. Simple download and experience the amazing Bengali typing!  
How to Download Bangla Word Software?
People want the Bangla Word Software for all windows versions, but you can not easily find this software in many google versions. So, today I am giving you the download link for Word Bangla Software to free download for pc and also I will give you instructions on installation procedures.   If you are using a Windows 7 device and having trouble while installing this software, follow these simple steps and download the BanglaWord software for free: Step 1: Click on the download link provided here. Step 2: Go to "Downloads" in "My Computer" and double click on the downloaded file. Step 3: A window will pop up, you need to click on "Accept". Step 4: A small file will be downloaded directly from your browser. Let the process complete. Step 5: After downloading, click "Finish" and the installation is complete. Step 6: Now, open the Bangla Word software on your computer. Step 7: Set this software as the default writing software. Many users are still confused whether this software works on Windows 7 (32 bit) or not. So, I will tell all Windows 7 users that this software works on all Windows. Simply install Bangla Word Software installer and go to the Control Panel and copy the Bengali fonts given and Paste them to the folder of the Control Panels "Font" No need of Registration.  
Bangla Word V1.9.0 Free Download:
Whenever a program is updated to a new version, the most important thing is what its users expect of it. Bangla Word V1.9.0 is the latest version of this software that contains all the bug fixes and it works very well. The use of this software is very simple and you can write any test without any typos. If you are using this software and planning to update to the latest Word Bangla version 1.9.0. I will provide a direct download link for this Bengali word download. Note: Every update is available on the official website. If you can't find the updated file in the future, please go to the official website directly and update the software to the latest version.  
How to work Bangla Word Software Free Download V1.9.0?
After downloading Bangla Word Software, people usually search work videos for better experience and practice. Here, I will give you a tutorial video to learn for better work experience.  
Bangla Word Software for Windows 10:
Bangla software is a typing software to write in Bengali fonts on your computer. It creates Bengali text with spell and grammar checkers. New features also include English word translation and full phonetic input support. Using this software, you can easily convert any text to Bengali text. This software is very handy and easy to install. Bangla software is very popular and it is the most used Bangla software by Bengalis.
Alternatives:
Below are some alternatives for this Bangla Word. You can also use them in Bengali writing software, however they are not exactly the same.
Avro Keyboard:
Omicron Lab developed this software as an open input keyboard. It is free and can be compiled with many graphics programs. It also provides more methods to write Bengali. It has a simple user interface and flexible operation with the latest version 5.6.0.
Lipikaar English to Bengali Typing Online:
Lipikaar is also another well-known software available in this field. It offers writing software in almost every language including Bengali writing. However, only those who work online can benefit from this. This software works online, so you need to connect to the Internet.  
Conclusion:
From its aspects we can conclude that it is the best Bangla Word Software available in the market.  
FAQs
Q: How can I get the Bengali font in Word Software?
A: Download the software and it can provide Bangla fonts for writing.
Q: How can I write in Bengali?
A: Simply download the Bangla Word software and write Bengali Font.
Q: Which Bengali font is the best?
A: Bangla Bengali Font free download is best.
Q: What is the best Bengali typing software?
A: Bangla software is the best typing Software.
Q: How many words are there in Bengali?
A: Although the Jnanendra Mohan Das lexicon contains about 150,000 words, the total number of downloads includes dialect words.
Q: How to write Bengali texts in this Software?
A: Writing and editing documents in Bengali by typing the vowels and the consonants over any standard keyboard.
Q: How to convert PDF documents into Word files?
A: Create and convert Bengali documents by typing specific text. The symbols are recognized by a special program using the standard keyboard with its own layout.
Q: How to write juktakkhor characters in this Software?
A: Juktakkhor characters are automatically added when using phonetic mapping. The texts are created with the standard keyboard using formatting algorithms.