Blockchain, the technology of trust and transaction recording, was originally designed for digital currency. Its popularity has skyrocketed in the last decade. Blockchain, a combination of the internet and advanced cryptography, provides a safe, dependable, and quick way to transact, interact with the government, and cross-check the authenticity of goods.
Blockchain technology is not confined to cryptocurrency and Bitcoin; it has the potential to promote transparency and fairness, while also saving time and money for businesses. Nowadays, technology has an enormous impact on various industries, and a Blockchain Development Company in Dubai can help businesses capitalize on the potential benefits of blockchain technology.
Before we begin, here is a list of 2023 blockchain statistics to help you analyse game-changing, pragmatic, and revolutionary blockchain applications. So, without further ado, let's get into the latest facts and figures.
With a compound annual growth rate of 56.3%, the blockchain sector will be worth $163.83 billion by 2029.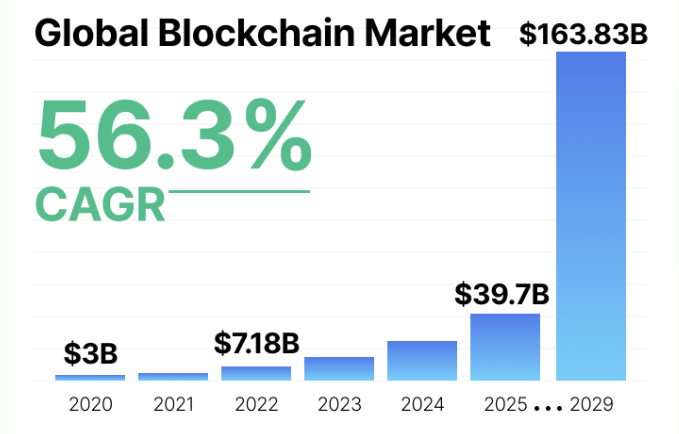 Global spending on blockchain technologies will exceed $19 billion by 2024.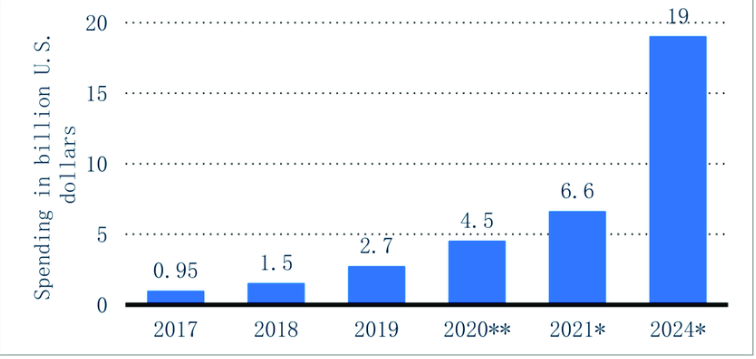 The global market for blockchain technology in the healthcare industry is expected to reach $231.0 million by 2023, growing at a 63% CAGR over the next six years.
By 2026, blockchain will be worth $1.48 billion in food and agriculture.
The commercial blockchain market will be worth $85.64 billion in 2023. Between 2022 and 2030, the global blockchain technology sector is expected to grow at an 85.9 percent CAGR. By 2026, the global blockchain market will be worth $67.4 billion.
According to a Deloitte poll, 86% of people believe Blockchain technology will improve our integration towards more touchless corporate operations.
By 2030, blockchain will have generated more than $3.1 trillion in commercial value.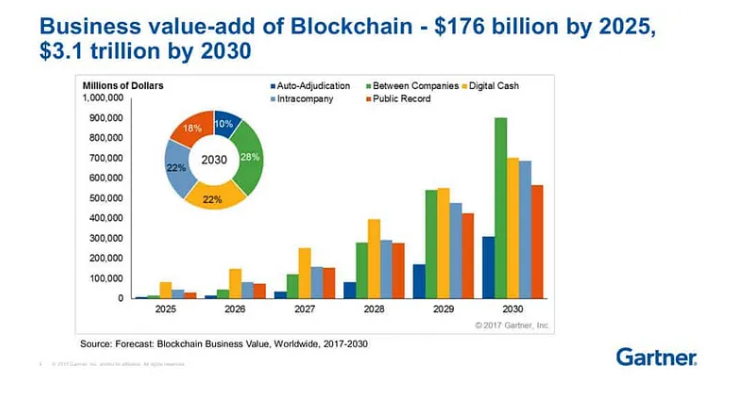 The blockchain gaming industry will be worth $39.7 billion by 2025.
According to PwC, blockchain technology will add $1.76 trillion to the global economy by 2030, while Citi believes the virtual world economy will be worth $13 trillion.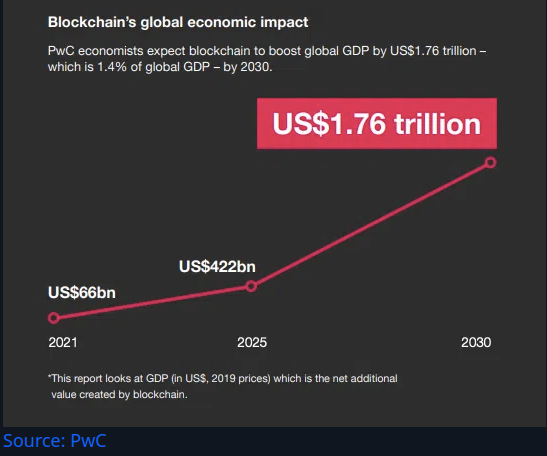 Blockchain Applications: A Way to Transform All Systems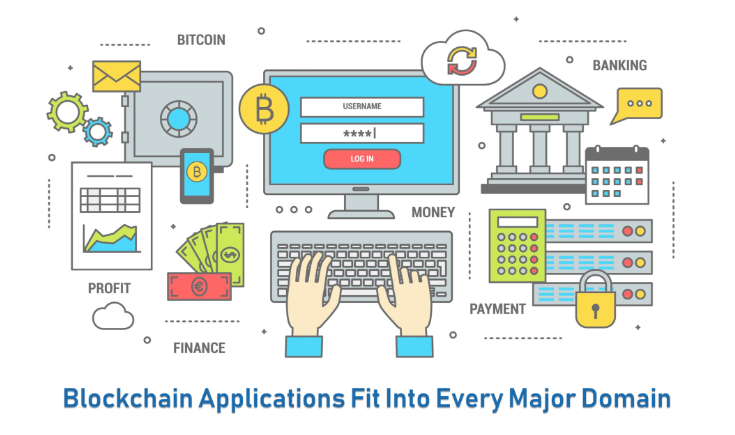 Regardless of the industry you work in, here is a list of top-notch blockchain applications that have been compiled and rounded up.
Blockchain Technology in Healthcare Management Systems
Patients' data in the healthcare sector is still dispersed across various departments and systems. As a result, individuals cannot easily and quickly access the data they require.
Also Read: The Top 10 IoT Development Companies in Dubai, UAE
Its Real Examples are as follows:
MedicalChain— MedicalChain is the first healthcare company in the healthcare structure in the United Kingdom. Its doctors use blockchain technology to facilitate storage, use EHRs (electronic health records), and provide a full-service telemedicine experience.
MedRec— It uses blockchain to give medical providers secure access to patients' records. It saves time and reduces the possibility of duplications between providers and facilities.
Nano Vision—With the power of blockchain and AI, Nano Vision can shift medical innovation away from traditional data and incompatible record systems. It can also collect and analyse molecular-level data on Nano Tokens.
Gem—Gem employs blockchain solutions to give patients control over their medical records and genomic data. It has also collaborated with the Centers for Disease Control and Prevention to monitor infectious diseases.
SimplyVital Health—This platform allows patients, as well as providers, to access, circulate, and even move their healthcare information.
Land Registration Using Blockchain
In the real estate market, blockchain allows you to create future-proof business models that connect potential buyers and sellers. It does away with the need for middlemen, lawyers, and brokers.
As an example-
Ubiquity, an American technology company, collaborated with the Brazilian real estate register office to develop the project in order to reduce costs while improving security and transparency. It allowed the company to transition from paper-based records to a completely computer-based solution.
Sweden's government is collaborating with ChromaWay to investigate the feasibility of a Blockchain-based land registry.
Deedcoin and BitProperty are two other decentralised platforms that connect buyers and sellers with real estate agents.
Insurance
The first thing that comes to mind when thinking about insurance claims is an increase in false claims. Current claims procedures may be complex, time-consuming, and inconvenient, resulting in consumer resentment and a trust gap between multiple parties.
In practice, Everledger has created a game-changing Blockchain solution for businesses that value transparency, trust, and provenance.
Accenture develops blockchain solutions for insurance clients in order to increase productivity and efficiency in the insurance industry. Its goal is to translate major insurance industry processes into blockchain-ready processes in order to embed trust in the system.
Insurance companies all over the world are testing a blockchain solution to provide "RiskBlock," or proof-of-insurance data.
Ridesharing Service Powered by Blockchain
Nowadays, sharing a ride is quite common. Passengers typically pay drivers in one of two ways: cash or credit. What if they use digital currency to pay for it? It appears to be quite appealing!
La'Zooz is a decentralised transportation platform that uses cryptocurrency and blockchain technologies to provide individuals with a variety of blockchain development services. The interesting thing is that one of them is real-time ridesharing services. This blockchain-based ridesharing service allows individuals to synchronise available seats in real time with other passengers travelling the same route. Furthermore, La'Zooz uses cryptocurrency technology and operates on a "Fair Share" reward mechanism for drivers and passengers.
What Are the Key Features of Blockchain Applications?
After gaining a fundamental and comprehensive understanding of blockchain applications with global implications, consider the following key characteristics:
Increases the overall network capacity
One of the most remarkable and significant features of blockchain is that it increases the capacity of computers working together to provide tremendous power. Its most prominent example is a project initiated by Stanford University to build a supercomputer and simulate protein folding for medical research.
Provides greater security
Blockchain technology has no single point of failure and is considered more secure than its competitors. It is so because it operates on a large number of evenly distributed nodes. It ensures that not a single node will be hacked, and that the integrity of the original data will not be jeopardised.
Immutable Ledger Creation
One of the primary benefits of blockchain is the creation of unalterable ledgers that are also permanent and indelible. It is concerned with the security of a decentralised database that is free of hacks and fraud, as well as the requirement that any intermediary keep the information secure.
Transfer Money Faster Than Traditional Banking Systems
It is now easier to manage money transfers that take too long to settle and proceed thanks to blockchain technology. This system is a highly upgraded system that saves you valuable time and money while also providing you with other benefits.
An Effective Web Decentralization Tool
Blockchain technology is a decentralised technology that allows business owners to gain direct control over their accounts. It gives them the ability to transfer their assets to whoever they want. It has numerous applications, including less likelihood of failures or errors, control over properties, no single point of failure, does not require you to rely on third-party companies, zero Scams, and authenticity.
The Consensus Algorithm Is An Essential Part Of Blockchain
It is a decision-making procedure for the network's active nodes.
Blockchain technology is extremely efficient. It is critical that the entire system runs smoothly. This way, you won't have to worry about the complex mechanism or hackers endangering your digital assets.
With Distributed Computational Power Based Ledgers, you can ensure a better outcome
It includes blockchain-technology-based ledgers that allow you to request access to the ledger and make the entire process transparent and credible. As it has the authority to maintain the ledger on the network, no outsider can get even an estimate about the transactions or involved participants. To be more specific, DLTs are enormously important because they are tamper-resistant, identifiable, manageable, highly responsive, and more.
Blockchain is what drives transparency and ensures that every node is free of corruption. Every node has a copy of the digital ledger, which aids in transaction processing and verification.
Wrapping Up
Blockchain, a term on every investor's lips around the world, has a plethora of blockchain technology applications. In the present day, this technology is making a name for itself. If you want to build a career in Blockchain technologies, take a look at the blockchain applications mentioned above. Following that, you will realise that blockchain technology is not limited to those sectors, but also plays an important role in the lending industry, trade finance ecosystem, cross-border transactions, money transfer, smart contracts, IoT, logistics, NFTs, government, media, and more.