Today, it is hard to find a casino that doesn't offer slots in the demo version. Normally, when a player leads the cursor onto the logo of the game, a couple of options appear and one of them would be demo play.
Slots in demo version are no different from the original money-based games. The only difference is that free slots do not take in or pay out any money – the player is granted an unlimited supply of game coins to play the slot when it is in demo – play Mr Luck.
But are the demo slots really worth playing? What is the point of slots if no money can be won on them? There are a few reasons why people choose to play slots in demo version. We reveal these reasons as well as advantages to free slots in this article.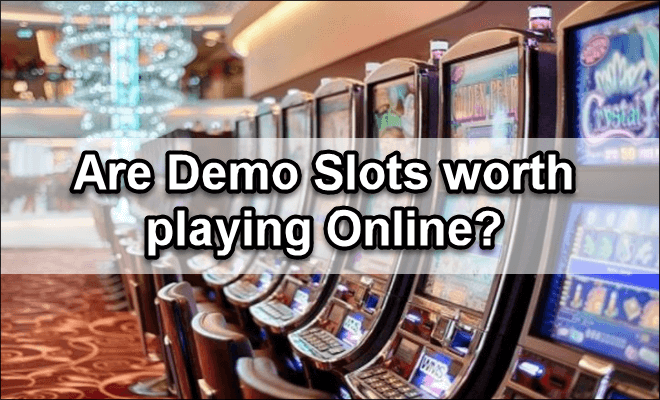 An alternative to the original 
Demo slots can serve quite a few functions. Most often, demo slots are played as an alternative to standard slots. Slots are exciting and entertaining, with or without wagering money. Some players like slots but do not like wagering money. In this case, demo slots are an ideal choice – the player receives an authentic slot experience without paying a penny.
Demo slots can serve as means of entertainment, just like standard slots.
Demo slots are a popular choice with people that are cutting down on their spending.
A chance to learn about slots risk-free 
One of the most important things about playing online slots is knowing the games that you play. Out of the abundance of available games, the player must choose the most suitable one.
There are thousands of slot games online, each with its own perks, bonus features and a unique paytable. When trying to make the right choice, a player must consider individual traits like bonus features, RTP, Volatility/Variance and so on. That can be quite difficult to do with a limited budget. The player cannot possibly try out all the different real-money slots.
However, that can be done risk-free through demo play.
By playing demo slots, a player can familiarise themselves with the different games out there without paying any money.
Demo slots can serve a function of a risk-free testing ground.
Choosing the right slot 
Many newcomers in slots do not pay enough attention to the different games out there. It is easy to assume that all slots are the same, but this is far from the truth. Every slot game is different in design, rewards, the flow of the game and the overall experience – a slot can be "tight" (low-paying), "loose" (high-paying), moderate or volatile (huge wins are paid out to lucky players).[adsense]
When it comes to choosing the slot that is right for you, demo play is your best tool.
Try the slot in demo version before you play the money version. This way you will know what to expect when wagering money.
Conclusion 
While demo version slots might not be for everyone, there are many reasons for playing them. They can assist you in choosing the right games and also provide a free alternative to standard money slots, which can be expensive.
Remember to gamble responsibly, only bet what you can afford and keep the game exciting!